DevOps as a service is an emerging philosophy in application development. DevOps as a service moves traditional collaboration of the development and operations team to the cloud, where many of the processes can be automated using stackable virtual development tools.
As many organizations adopt DevOps and migrate their apps to the cloud, the tools used to build, test, and deploy processes change towards making 'continuous delivery' an effective managed cloud service. We'll take a look at what such a move would entail, and what it means for the next generation of DevOps teams.
DevOps as a Managed Cloud Service
What is DevOps in the cloud? Essentially it is the migration of your tools and processes for continuous delivery to a hosted virtual platform. The delivery pipeline becomes a seamless orchestration where developers, testers, and operations professionals collaborate as one, and as much of the deployment process as possible is automated. Here are some of the more popular commercial options for moving DevOps to the cloud on AWS and Azure.
AWS Tools and Services for DevOps
Amazon Web Services has built a powerful global network for virtually hosting some of the world's most complex IT environments. With fiber-linked data centers arranged all over the world and a payment schedule that measures exactly the services you use down to the millisecond of computing time, AWS is a fast and relatively easy way to migrate your DevOps to the cloud.
Though AWS has scores of powerful interactive features, three particular services are the core of continuous cloud delivery.
AWS CodeBuild
AWS CodeBuild is a fully managed service for compiling code, running quality assurance testing through automated processes, and producing deployment-ready software. CodeBuild is highly secure, as each customer receives a unique encryption key to build into every artifact produced.
CodeBuild offers automatic scaling and grows on-demand with your needs, even allowing the simultaneous deployment of two different build versions, which allows for comparison testing in the production environment.
Particularly important for many organizations is CodeBuild's cost efficiency. It comes with no upfront costs and customers pay only for the milliseconds of compute time required to produce releases and connect seamlessly with other Amazon services to add power and flexibility on demand without spending six figures on hardware to support development.
AWS CodePipeline
With a slick graphical interface, you set parameters and build the model for your perfect deployment scenario and CodePipeline takes it from there. With no servers to provision and deploy, it lets you hit the ground running, bringing continuous delivery by executing automated tasks to perform the complete delivery cycle every time a change is made to the code.
AWS CodeDeploy
Once a new build makes it through CodePipeline, CodeDeploy delivers the working package to every instance outlined in your pre-configured parameters. This makes it simple to synchronize builds and instantly patch or upgrade them at once. CodeDeploy is code-agnostic and easily incorporates common legacy code. Every instance of your deployment is easily tracked in the AWS Management Console, and errors or problems can be easily rolled back through the GUI.
Combining these AWS tools with others in the AWSinventory provides all the building blocks needed to deploy a safe, scalable continuous delivery model in the cloud. Though the engineering adjustments are daunting, the long-term stability and savings make it a move worth considering sooner rather than later.
DevOps and Security
Transitioning to DevOps requires a change in culture and mindset. In simple words, DevOps means removing the barriers between traditionally siloed teams: development and operations. In some organizations, there may not even be a separation between development, operations, and security teams; engineers are often required to do a bit of all. With DevOps, the two disciplines work together to optimize both the productivity of developers and the reliability of operations.

The alignment of development and operations teams has made it possible to build customized software and business functions quicker than before, but security teams continue to be left out of the DevOps conversation. In a lot of organizations, security is still viewed as or operates as a roadblock to rapid development or operational implementations, slowing down production code pushes. As a result, security processes are ignored or missed as the DevOps teams view them as an interference toward their pending success. As part of your organization's strategy toward security, automated and orchestrated cloud deployment and operations - you will need to unite the DevOps and SecOps teams in an effort to fully support and operationalize your organization's cloud operations.

A new word is here, DevSecOps
Security teams tend to be an order of magnitude smaller than developer teams. The goal of DevSecOps is to go from security being the "department of no" to security being an enabler.
"The purpose and intent of DevSecOps are to build on the mindset that everyone is responsible for security with the goal of safely distributing security decisions at speed and scale to those who hold the highest level of context without sacrificing the safety required," describes Shannon Lietz, co-author of the "DevSecOps Manifesto."
DevSecOps refers to the integration of security practices into a DevOps software delivery model. Its foundation is a culture where development and operations are enabled through process and tooling to take part in a shared responsibility for delivering secure software.
For example, if we take a look at the AWS Shared Responsibility Model, we see that we as a customer of AWS have a lot of responsibility in securing our environment. We cannot expect someone to do that job for us.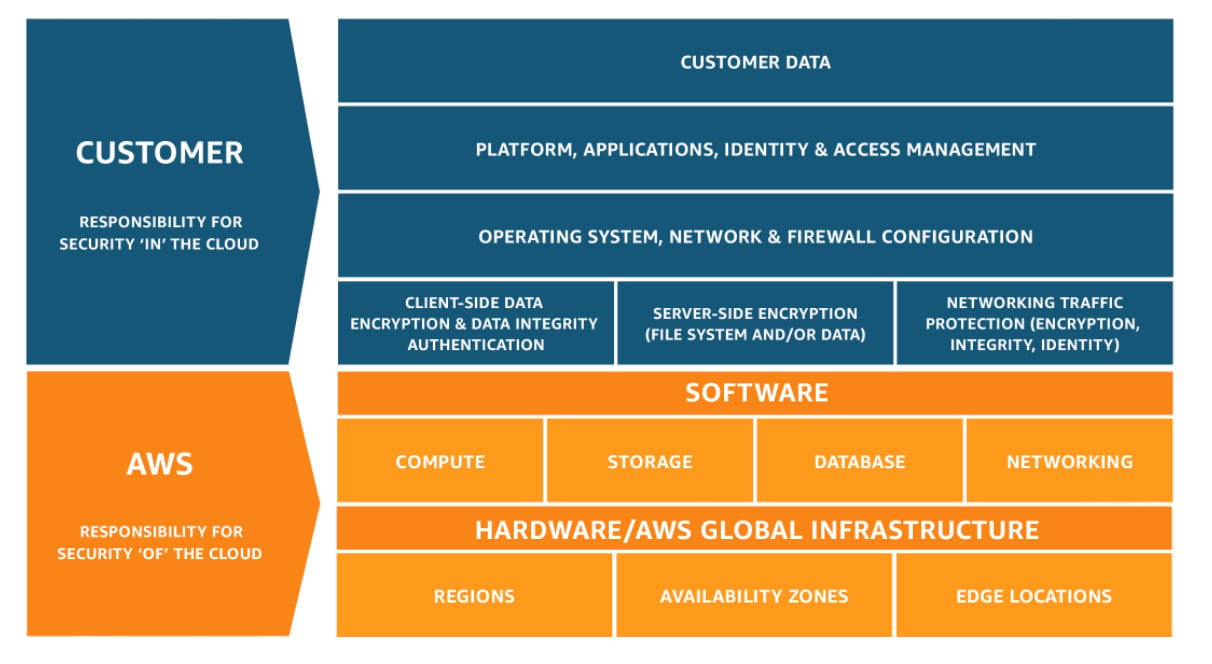 The definition of the DevSecOps Model is to integrate security objectives as early as possible in the lifecycle of software development. While security is "everyone's responsibility," DevOps teams are uniquely positioned at the intersection of development and operations, empowered to apply security in both breadth and depth.
Nowadays, scanners and reports simply don't cover the whole picture. As part of the testing that is done in a pipeline, the developer adds a penetration test to validate that the new code is not vulnerable and our application stays secure.
Organizations can not wait to fall victim to mistakes and attackers. The security world is changing, development teams are leaning in over saying "No", nor open to hearing and working with Open Contribution & Collaboration over Security-Only Requirements.
Best practices for DevSecOps
DevSecOps should be the natural incorporation of security controls into your development, delivery, and operational processes.
Shift Left
DevSecOps are moving engineers towards security from the right (at the end) to the left (beginning) of the Development and Delivery process. In a DevSecOps environment, security is an integral part of the development process from the get-go. An organization that uses DevSecOps brings in its cybersecurity architects and engineers as part of the development team. Their job is to ensure every component, and every configuration item in the stack is patched, configured securely, and documented.
Shifting left allows the DevSecOps team to identify security risks and exposures early and ensure that these security threats are addressed immediately. Not only is the development team thinking about building the product efficiently, but they are also implementing security as they build it.
Automated Tests
The DevOps Pipeline performs several tests and checks for the code before the code deploys to production workloads, so why not add security tests such as static code analysis and penetrations tests? The key concept here is to understand that passing a security test is as important as passing a unit test. The pipeline will fail if a major vulnerability will be found.
Slow Is Pro
A common mistake is to deploy several security tools at once such as AWS config for compliance and a SAST (Static application security testing) tool for code analysis or deploy one tool with a lot of tests and checks. This method only creates an extra load of problems for developers which slows the CI/CD process and is not very agile. Instead, when an organization is implementing tools like those mentioned above they should start with a small set of checks which will slowly get everybody on board and get the developers used so that their code is tested.
Keep It A Secret
"Secrets" in Information Security often means all private information a team should know such as API Keys, Passwords, Databases connection strings, SSL certificates, etc. Secrets should be kept in a safe place and not hard-coded in a repo for example. Another issue is to keep the secret rotated and generate new ones every once in a while. A compromised access key can cause devastating results and major business impact, constantly rotating these keys is a mechanism determined to protect against old secrets being miss used. There are a lot of great tools for these purposes such as Keepass, AWS Secret manager, or Azure Key Vault.
Security education
Security is a combination of engineering and compliance. Organizations should form an alliance between the development engineers, operations teams, and compliance teams to ensure everyone in the organization understands the company's security posture and follows the same standards.
Everyone involved with the delivery process should be familiar with the basic principles of application security, the Open Web Application Security Project (OWASP) top 10, application security testing, and other security engineering practices. Developers need to understand thread models, compliance checks, and have a working knowledge of how to measure risks, exposure, and implement security controls
At Cloudride, we live and breathe cloud security, and have supported numerous organizations in the transition to the DevSecOps model. From AWS, MS Azure, and other ISV's, we can help you migrate to the cloud faster yet securely, strengthen your security posture and maximize business value from the cloud.
It's safe to say that AWS certifications are some of the most coveted certifications in the industry. There are many different certification opportunities to choose from. And the best part about AWS certifications is that they're all very comprehensive, so you can start at any level and work your way up from there.
AWS Certified - Cloud Practitioner
The AWS Certified - Cloud Practitioner certification is the most entry-level of all the certifications that AWS offers. It's designed to test your knowledge of basic cloud services and features and how they can be used together. This certification isn't as comprehensive as others, so it's better suited for people just starting with AWS.
The exam consists of a multiple-choice exam with 50 questions and an essay question (100 points total). The multiple-choice exam lasts 90 minutes, while the essay portion takes 60 minutes to complete. There's no minimum score required to pass this test; however, you must meet certain benchmarks to earn up to 11 bonus points on your final scorecard from Amazon Web Services (AWS).
AWS Certified FinOps Practioner
The value of an AWS Certified FinOps Practioner is at an all-time high. This is because the world is going digital, and everything from finance to accounting has to change.
FinOps (short for financial operations) allows businesses and organizations to automate their financial processes using new technologies like cloud computing, blockchain, machine learning, and artificial intelligence.
The AWS Certified FinOps Practioner certification covers topics like how to build a cost model for your business using AWS services; how to use Amazon Quick Sight for analytics; how to integrate data into an application by using Amazon Athena; or how you can use Amazon Kinesis Streams to make sense of streaming data generated by various systems within your organization.
AWS Certified Developer – Associate
For junior developers, the AWS Certified Developer – Associate certification is a great first step into cloud computing. Having this certification on your resume shows that you have a basic understanding of AWS, can program in some of its most popular languages—JavaScript and Python—and understand how to use tools like DynamoDB.
This certification can be a good starting point for developers looking to move into DevOps roles because it requires an understanding of programming languages (and not just AWS services) and an awareness of security issues in the cloud.
If you're interested in moving into security roles such as penetration testing or system administration, completing this coursework shows that you understand some core concepts about how AWS works and what types of threats are present when working within it.
AWS Certified Advanced Networking – Specialty
Advanced Networking is a specialization that adds to the AWS Certified Solutions Architect - Associate certification. It provides specialized knowledge of designing, securing, and maintaining AWS networks.
The Advanced Networking – Specialty certification will validate your ability to design highly available and scalable network architectures for your customers that meet their requirements for availability, performance, scalability, and security.
The AWS Advanced Networking exam tests your ability to use complex networking services such as Elastic Load Balancing and Amazon Route 53 in an enterprise environment built upon Amazon VPCs (Virtual Private Cloud). You must have passed the Solutions Architect – Associate level before taking this exam because it covers advanced topics that are not covered in the associate level courseware or exam.
AWS Certified Solutions Architect - Professional
The AWS Certified Solutions Architect - Professional certification is the most popular of all of the AWS certifications. It is designed for those who want to be or are already architects and need to design scalable and secure cloud computing solutions.
This certification requires you to have mastered designing and building cloud-based distributed applications. You will also need to understand how to build an application that can scale horizontally while minimizing downtime.
AWS Certified DevOps Engineer – Professional
DevOps is a software development process focusing on communication and collaboration between software developers, QA engineers, and operations teams. DevOps practitioners aim to improve the speed of releasing software by making it easy for members of each team to understand what their counterparts do and how they can help.
DevOps Engineer has mastered this practice in their organization and can lead others through it. A good DevOps Engineer can adapt quickly as requirements change or new technologies emerge—and will always work toward improving the delivery process overall.
The value of becoming a certified professional in this field is clear. Businesses are increasingly reliant on technology. There will always be a demand for experts to ensure that all systems run smoothly at every level (software design through deployment). In short: if you want a job where your skills are never outmoded or obsolete, choose DevOps!