Visualizing the five-phase migration process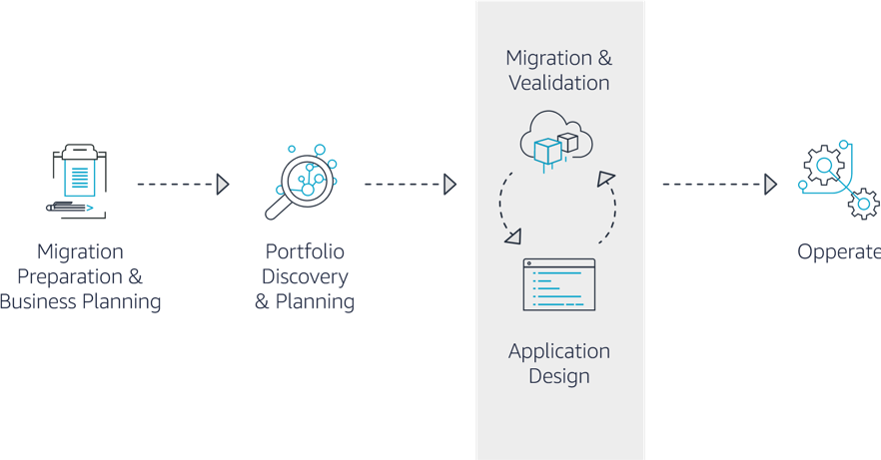 The five-phase migration process can help guide your organizational approach to migrating tens, hundreds, or thousands of applications. This serves as a way to envision the major milestones of cloud adoption during your journey to AWS.
Phase 1 - Migration Preparation and Business Planning
Establish operational processes and form a dedicated team
Developing a sound mission-driven case requires taking your objectives into account, along with the age and architecture of your existing applications, and their constraints.
Engaged leadership, frequent communication, and clarity of purpose, along with aggressive but realistic goals and timelines, make it easier for your entire company to rally behind the decision to migrate.
You will want to establish operational processes and form a team dedicated to mobilizing the appropriate resources. This team is your Cloud Center of Excellence (CCoE), and they will be charged with leading your agency through the organizational and mission-driven transformations over the course of the migration effort.
The CCoE identifies and implements best practices, governance standards, automation, and also drives change management.
An effective CCoE evolves over time, starting small and then growing as the migration effort ramps up. This evolution helps to establish migration teams within your organization, and decide which ones will be responsible for migrating specific portions of your IT portfolio to AWS. The CCoE will also communicate with the migration teams to determine areas where you may need to work with AWS Professional Services, an APN Partner, or a vendor offering a solution on AWS Marketplace to help you offset costs and migrate successfully.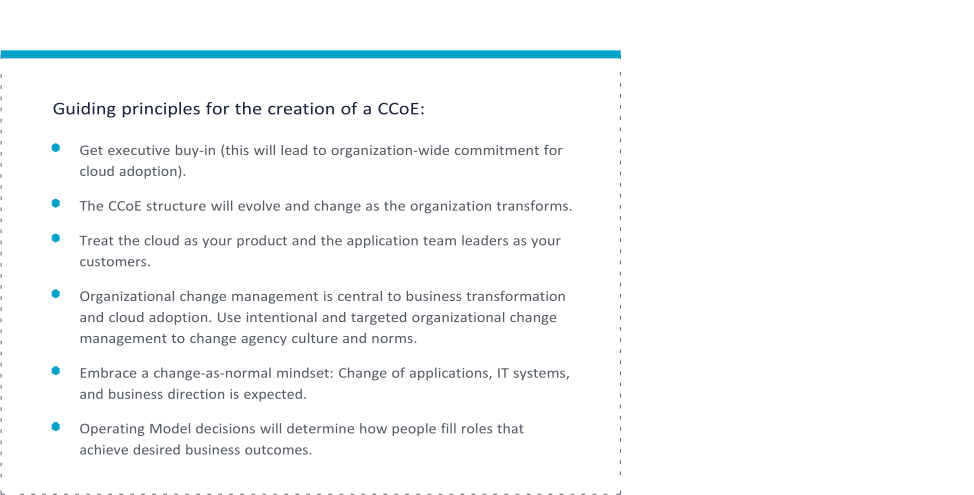 Phase 2 - Portfolio Discovery and Planning
Begin the process with less critical and complex applications
Full portfolio analysis of your environment, complete with a mapping of interdependencies, and migration strategies and priorities, are all key elements to building a plan for a successful migration.
The complexity and level of impact of your applications will influence how you migrate. Beginning the migration process with less critical and complex applications in your portfolio creates a sound learning opportunity for your team to exit their initial round of migration with:
Confidence they are not practicing with mission critical applications in the early learning stages.
Foundational learnings they can apply to future migration iterations.
Ability to fill skills and process gaps, as well as positively reinforce best practices based on experience.
The CCoE plays an integral role in beginning to identify the roles and responsibilities of the smaller migration teams in this phase of the migration process. It is important to gain familiarity with the operational processes that your organization will use on AWS. This will help your workforce build experience and start to identify patterns that can help accelerate the migration process, simplifying the method of determining which groups of applications can be migrated together.
Phase 3 + Phase 4 - Application Design, Migration and Validation
Each application is designed, migrated and validated
These two phases are combined because they are often executed at the same time. They occur as the migration effort ramps up and you begin to land more applications and workloads on AWS. During these phases the focus shifts from the portfolio level to the individual application level. Each application is designed, migrated, and validated according to one of the six common application strategies. ("The 6 R's" will be discussed in greater detail below.)
A continuous improvement approach is often recommended. The level of project fluidity and success frequently comes down to how well you apply the iterative methodology in these phases.
Phase 5 - Modern Operating Model
Optimize new foundation, turn off old systems
As applications are migrated, you optimize your new foundation, turn off old systems, and constantly iterate toward a modern operating model. Think about your operating model as an evergreen set of people, processes, and technologies that constantly improves as you migrate more applications. Ideally, you will be building off the foundational expertise you already developed. If not, use your first few application migrations to develop that foundation, and your operating model will continually improve and become more sophisticated as your migration accelerates.